Create unforgettable memories during your honeymoon trip to Pattaya. This seaside town in Thailand is an ideal place to enjoy marital bliss, with its lively nightlife, sandy shores, and lush landscapes.
Romantic Places in Pattaya for Your Honeymoon
Pattaya has much to offer romance-seeking couples; here are the most romantic places to visit during your honeymoon in Pattaya:
Jomtien Beach
Jomtien Beach is a tranquil beach south of the bustling Pattaya Beach. Here, couples can bask under the golden sun, have a relaxing swim together in the calm water, and watch as the sun dips below the horizon. If you are in the mood for some excitement, Jomtien Beach is a great spot to do watersports, such as jet skiing, parasailing, and scuba diving.
Nong Nooch Tropical Garden
Covering over 500 acres, this expansive garden is filled with visual delights. Meander through its themed gardens, appreciating the carefully landscaped designs and brilliant blossoms. You can easily spend hours happily discovering garden after garden and finding beautiful backdrops perfect for your couple's photos.
Flower Land Pattaya
As the name suggests, Flower Land is an Eden of blooms. Walking in this flower park feels like stepping into a romantic reverie as you immerse yourself in unique and colorful floral gardens which include indigenous and imported species.
The Sanctuary of Truth
A museum and temple in one, the Sanctuary of Truth is a wooden architectural masterpiece inspired by love, life, and unity. The intricate wood carvings and sculptures display traditional Thai craftsmanship, narrating tales of philosophy and spirituality. Visitors will certainly marvel at the rich artistic and cultural features of this magnificent structure.
Koh Larn (Coral Island)
Just a short boat ride off the coast of Pattaya, Coral Island mesmerizes visitors with its white sand and turquoise water. For the adventurous duo, snorkeling, jet skiing, and parasailing await. You can also take a thrilling motorbike ride to the island's village. Or, simply laze on the beach, basking in its peaceful atmosphere.
Pattaya Viewpoint
Gazing over the crescent-shaped bay, the hilltop at Pattaya Viewpoint presents its visitors with a breathtaking panoramic view. It's an ideal spot for honeymooners to have romantic dinners with spectacular views of Pattaya's cityscape, cradling a boundless ocean.
Na Jomtien Beach
This 2.9-kilometer stretch of secluded beach is home to MASON, offering luxury accommodations perfect for romantic interludes. Beachgoers seeking quiet and privacy will find it an ideal spot for relaxation. Honeymooners will realize their dream holiday at MASON's 5-star luxury pool villas in Chonburi.
The Perfect Place for a Honeymoon in Pattaya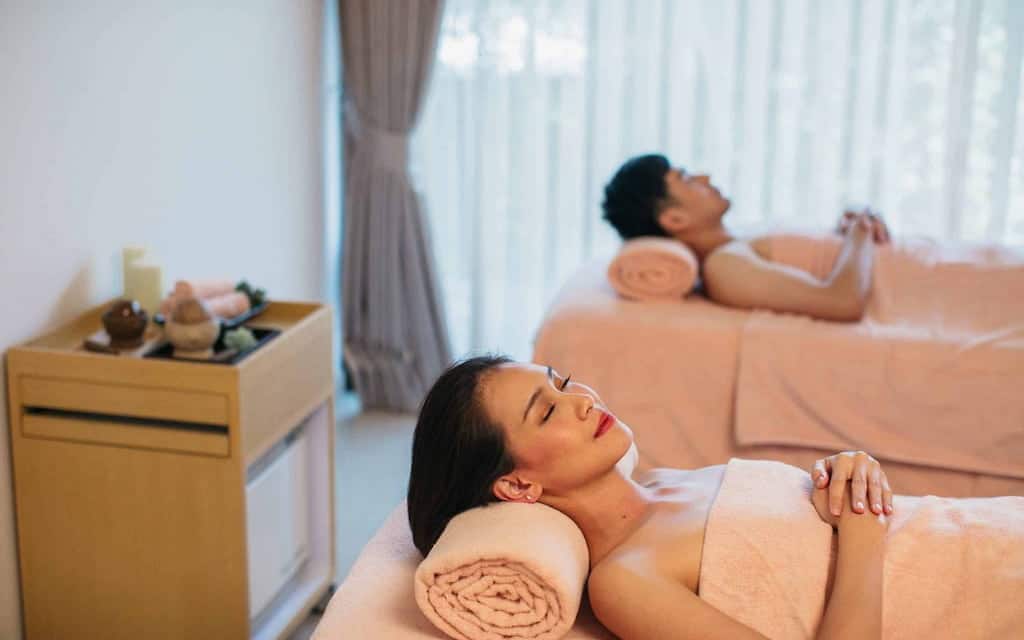 The luxury villas at MASON are meticulously crafted, showcasing expansive interiors and a modern design ethos rooted in Thai tradition. Floor-to-ceiling windows offer unobstructed views of the surrounding nature, and ensure you're always in touch with the stunning sea and sky. Revel in the intimate luxury of private plunge pools attached to each villa. Whether it's a midnight dip under the stars or a sunrise swim, these pools are your private oasis of serenity.
You'll find every modern amenity to enhance your stay within the villas, from the ultra-comfortable king-sized bed to plush seating and an entertainment system perfect for cozy movie nights. The bathroom blends aesthetics and functionality with rain showers and luxury bath products, ensuring your baths are soaked in opulence. Experience VIP treatment with butler service and complimentary drinks and snacks replenished daily.
Beyond the confines of the villa, MASON offers couples more opportunities for cherished moments, whether at the romantic beach bar inspired by Chonburi's Ang Sila Town enjoying refreshing drinks, or the luxurious MASON Spa diving deep into relaxation with a therapeutic couples' massage.
Among Pattaya's many romantic attractions, MASON stands out as a place to stay and as an experience to cherish. Have a beautifully blissful honeymoon stay at MASON.