If you are searching for a luxurious, private getaway near Bangkok that offers the perfect balance of relaxation and adventure, look no further than MASON Pattaya – the epitome of lavish beachside vacations. Our exclusive resort offers everything you could ever desire in a blissful holiday – from captivating views of the sparkling waters of the Gulf of Thailand to an array of exhilarating activities and exquisite dining options.
Panoramic Sea Views Every Day
Our 5-star private beach resort in Na Jomtien, Chon Buri, is the ideal location to unwind and leave behind the hustle and bustle of the city without being concerned about long travel times or intricate planning. Situated about 2.5 hours south of Bangkok, we are in the center of the beach resort town of Pattaya in a secluded yet convenient location.
Nestled between Pattaya's cosmopolitan skyline and local fisherman village, our resort offers stunning pool villas perched atop a rocky hill. You can experience the most romantic sunsets and panoramic ocean views from our intimate sundecks which provide remarkable vantage points.
MASON derives its name from stone-mason, a tribute to the local artisans and rock carvers of nearby Angsila. We have tapped into the heart of this inspiring community, thoughtfully crafting a space that celebrates the area with exceptional design and ongoing involvement in the local community.
Experience the MASON Difference
As you enter the resort, you will be instantly impressed with our opulent, modern design and ample facilities. Our beach entrance is one of our most stunning features, as the crystal blue waters lap at the white sand beach, surrounded by lush palm trees and tropical foliage.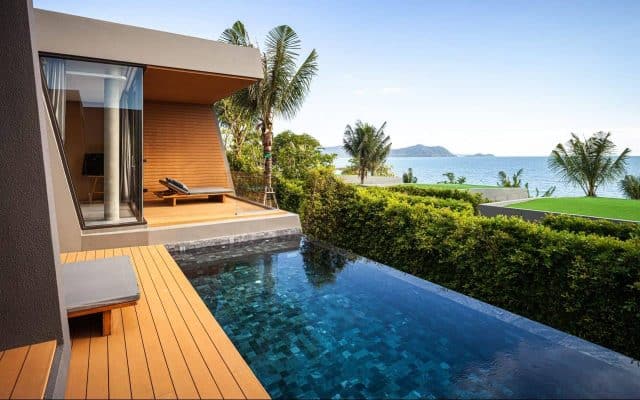 Come to the serene shores of Na Jomtien and bask in the luxury of our breathtaking beach, garden, or pool villas. All our villas have been thoughtfully designed with your relaxation and rejuvenation in mind, employing either nautical or rustic modern designs with minimalistic elements. Enjoy the ocean views while you relax beside your private salt-water pool, or spend time in the jacuzzi and sun decks and soak in the
Our villas are equipped with modern amenities, such as air conditioning, flat-screen TVs, a Marshall Bluetooth Speaker to play your favorite tunes, and complimentary Wi-Fi. Plus, you can take advantage of our exclusive creator service and let us take care of you – from setting up a romantic dinner on the beach to organizing your daily itineraries.
tropical vibes.
World-class Experiences and Amenities
Be spoiled for choice with our exquisite selection of amenities. Visit our Sky Pool for captivating sunset views, or reap the rewards of private beach access, complete with sun loungers and beach umbrellas.
MASON Spa is a must for those seeking the ultimate indulgence. We highly recommend the MASON ZILA Stone Signature Massage, which combines eastern and western massage techniques using unique stones only found in the Angsila community.
No luxury getaway is complete without the ultimate gastronomic experience. Marvel at the breathtaking views of Pattaya bay as you indulge in our signature dishes, prepared using the freshest, locally-sourced ingredients, at our sophisticated all-day dining Zila Street Bistro and Bar. For an even more intimate experience, let us take you on a romantic journey with private beach dining or a luxurious excursion, where the two of you can explore the beautiful Gulf of Thailand in the most picturesque way, zipping across the ocean in a private boat.
Take advantage of our resort's proximity to the numerous attractions in Pattaya. From bustling shopping centers to exquisite beach clubs and delightful local eateries, you can easily explore the area in style with our complimentary shuttle and transportation services.
Whether you seek a romantic getaway, an unforgettable family vacation, or a quiet solo beach trip near Bangkok, our team is ready to design the perfect holiday for you. Make your next vacation a memorable experience with MASON Pattaya, and remember to inquire about our exclusive offers for the best deals.