Pattaya, a coastal gem nestled not too far from vibrant Bangkok, has fast become a haven for Instagrammable cafe enthusiasts in search of both tranquility and culinary excellence. With a myriad of cafes dotting its picturesque landscape, discerning coffee lovers can sometimes find themselves overwhelmed by choice.
In this blog, you can explore our top four choices for beautiful and Instagrammable cafes in Pattaya in the Chonburi region, each offering an exceptional blend of coffee, cuisine, and stunning sea views that will undoubtedly tantalize your senses.
La Baguette | A Taste of Paris in Pattaya
Our first stop is La Baguette, a charming Instagrammable cafe that effortlessly transports you to the quaint streets of Paris right here in Pattaya. As you step inside, you are immediately greeted by the intoxicating aroma of freshly baked pastries and bread. The commitment to quality here is palpable, with only the finest ingredients used to craft their delectable offerings.
La Baguette's showcase of splendid cakes, pastries, and melt-in-your-mouth chocolates is a testament to their dedication to the art of patisserie. Moreover, for those seeking more substantial fare, the cafe also boasts a menu replete with delightful European dishes, perfectly complemented by an extensive array of coffee options.
Bake n' Brew | A Culinary Haven
This beautiful cafe and bakery in Pattaya effortlessly marries sweet and savory, ensuring a diverse range of options to tantalize your taste buds.
Whether it's a cup of freshly brewed coffee, a slice of lemon cheesecake, or a comforting plate of spaghetti alla carbonara, Bake n' Brew has it all. Notably, they also cater to vegetarian and vegan preferences, ensuring inclusivity for all.
Jasmin's Cafe | A Cozy Hideaway
Jasmin's Cafe, tucked away on Pattaya Klang Road, offers respite from the bustling beachfront. While the seating space may be limited, the menu is anything but. Here, you can indulge in a delightful blend of Thai and Western dishes, accompanied by a diverse selection of coffees, smoothies, and shakes.
Do not miss the opportunity to savor their Tom Yum Goong, a delicious shrimp, veggie, lemongrass, and noodle soup that encapsulates the essence of Thai cuisine. Equally enticing is their Thai fried rice, a dish that embodies the perfect balance of flavors.
KROK-A-CAFÉ ESPRESSO BAR | A Coastal Oasis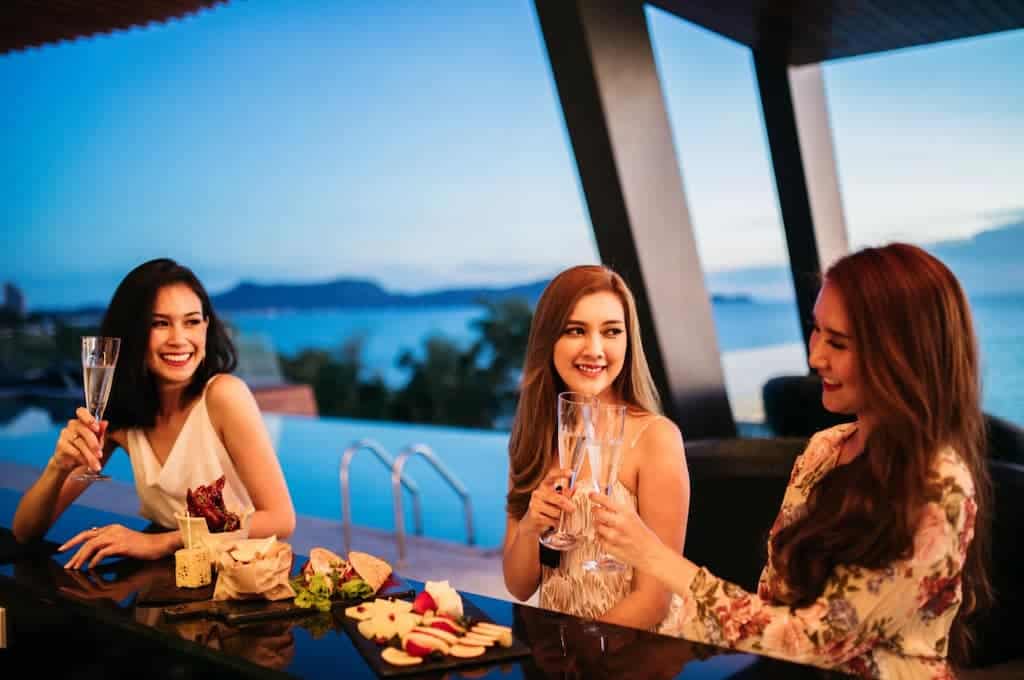 Saving the best for last, it's the breathtakingly beautiful KROK-A-CAFÉ ESPRESSO BAR cafe, nestled within the luxurious MASON in Na Jomtien, Pattaya. This cafe and bistro redefines the dining experience, offering not only exceptional cuisine but also unmatched ocean views that are sure to leave you spellbound.
Designed by the renowned Thai architect Vasu Virajsilp, the cafe space seamlessly blends luxury, exclusivity, and tranquility into one chic hangout area with a Chonburi sea view. MASON itself, located near the serene Jomtien Beach, encapsulates the essence of privacy and luxury. The architecture of MASON pays homage to the rich history of Chonburi, featuring traditional stone carving techniques from Ang Sila Town.
Our cafe's bold character is reflected in its unique menu offerings. Guests can look forward to premium dishes like the coffee-rubbed grilled Australian beef tenderloin with espresso bourbon sauce, a culinary masterpiece that marries rich flavors with premium ingredients. Equally impressive is the baked brie with rosemary, dried chili, sea salt, and honey, served with toasted ciabatta, a symphony of textures and tastes.
Complementing the dining experience is an extensive cocktail menu, featuring signature drinks like the Krok-A-Cumber. The 180-degree ocean view from the sky pool bar, rooftop bar and restaurant makes for an unforgettable backdrop to enjoy these exquisite libations, particularly during the captivating sunset hours.
The ambiance at KROK-A-CAFÉ ESPRESSO BAR exudes elegance and exclusivity, creating an atmosphere where guests can either connect with others or revel in a more intimate experience. The fusion cuisine and bold presentation of dishes promise a truly unique culinary journey.
KROK-A-CAFÉ ESPRESSO BAR isn't just an Instagrammable cafe in Pattaya, Na Jomtien; it's an invitation to create unforgettable memories and bask in unparalleled experiences. With our stunning sea views, delectable fusion cuisine, and exquisite cocktails, it's the perfect setting for an afternoon or evening in Na Jomtien, Chonburi.
Let The Cafe-hopping Begin!
Whether you're drawn to the sweet pastries of La Baguette, the diverse culinary offerings of Bake n' Brew and Jasmin's Cafe, or the unmatched dining experience at KROK-A-CAFÉ ESPRESSO BAR, Pattaya offers a plethora of beautiful and Instagrammable options for cafe enthusiasts.
Come for the exceptional food and coffee at KROK-A-CAFÉ ESPRESSO BAR, stay for the mesmerizing views and warm hospitality at MASON.