Aside from the allure of beautiful beaches and vibrant nightlife, Pattaya's sunset spots are in a class of their own. Visitors to this thriving seaside city are often awed by picture-perfect backdrops provided by the vibrant sunset. In this article, we'll explore the best spots in Pattaya with spectacular sunset views, including a cafe in Na Jomtien.
Sunset Spots in Pattaya
A Pattaya sunset is an unforgettable sight to behold. The jewel-colored sky with a golden-hued sun setting on the horizon paints a breathtaking tapestry you won't soon forget. We've compiled a list of the viewpoints to visit for captivating Pattaya sunsets:
Sanctuary of Truth
This temple-slash-museum is an architectural marvel intricately carved from wood, featuring Thai sculptures. As the sun sets, the Sanctuary of Truth is bathed in a warm, golden glow, creating an ethereal ambience that will stop you in your tracks.
Khao Phra Tamnak or Khao Phra Bat
Located on a hilltop between Jomtien and South Pattaya, Khao Phra Tamnak or Khao Phra Bat is considered the highest spot in the area. It has an observation deck, which is an ideal vantage point to sit back and watch the sunset over the Gulf of Thailand as the city transitions from day to night. Take a leisurely stroll from Jomtien and drop by the Krom Luang Chumporn monument built in honor of a Thai naval hero, and Wat Khap Phra Bat, a Buddhist temple where locals go to pay homage to a footprint relic belonging to Buddha.
Khao Phra Tamnak
Also called Pattaya Hill, it's located near Khao Phra Tamnak and is arguably the most famous sunset spot in Pattaya, providing visitors with a bird's-eye view of the city. Located on a cliffside, it's a favorite spot for tourists and locals alike, with various restaurants catering to diners who want to enjoy a great meal while watching the sunset on the horizon.
Wat Phra Yai
Wat Phra Yai is an enormous 18-meter-tall Buddha seemingly looking over the whole city from the top of Pattaya Hill. The magnificent golden Buddha statue is a place of tranquility and history, dating back to the time when Pattaya was a small fishing village. From here, you get a panoramic view of Pattaya's crescent-shaped coastline and cityscape, making it the ideal sunset viewpoint in Pattaya.
Jomtien Beach
Embracing the Gulf of Thailand, Jomtien Beach lies south of Pattaya Beach, offering a less hectic and more laid-back alternative. Its 6-kilometer stretch of beach is popular for watersports, such as jet skiing, windsurfing, and kiteboarding. However, as the afternoon becomes evening, it becomes a prime spot to view impressive sunsets in Pattaya.
MASON at Na Jomtien Beach
MASON, located in Na Jomtien Beach, is a secluded spot for soaking up picturesque sunset views. Its exclusive location makes it less crowded, ideal for guests who value peace and privacy. Our resort offers luxury and elegance in an upscale setting for those looking to unwind and indulge.
You can enjoy breathtaking sunsets every day from various viewpoints in MASON. Our ultra-modern villas are havens of luxury, with plush furnishings and floor-to-ceiling windows to let in natural light, filling the rooms with a golden glow during sunset hour.
If you fancy a cocktail in the twilight, KROK-A-CAFÉ ESPRESSO BAR has a 180-degree seaview deck, making it an idyllic spot to relax and soak in nature's stunning beauty. As a café, bistro, and bar all in one, it offers fine gourmet cuisine to be enjoyed with unmatched ocean views during the day, and premium drinks and cocktails with a sophisticated vibe when the sun goes down.
Our resort's most iconic spot is the Sky Pool, located on our Club House rooftop. The Sky Pool offers the most romantic sunset viewing spot with extravagant ocean views of Na Jomtien to be enjoyed as you take a plunge in the infinity pool or lounge poolside.
Guests wanting to watch the sunset on the beach get private access to an exclusive deck equipped with sun loungers and towels. Here, you can feel the gentle breeze and the waves lapping at your feet and soak in the myriad of colors as the sky changes.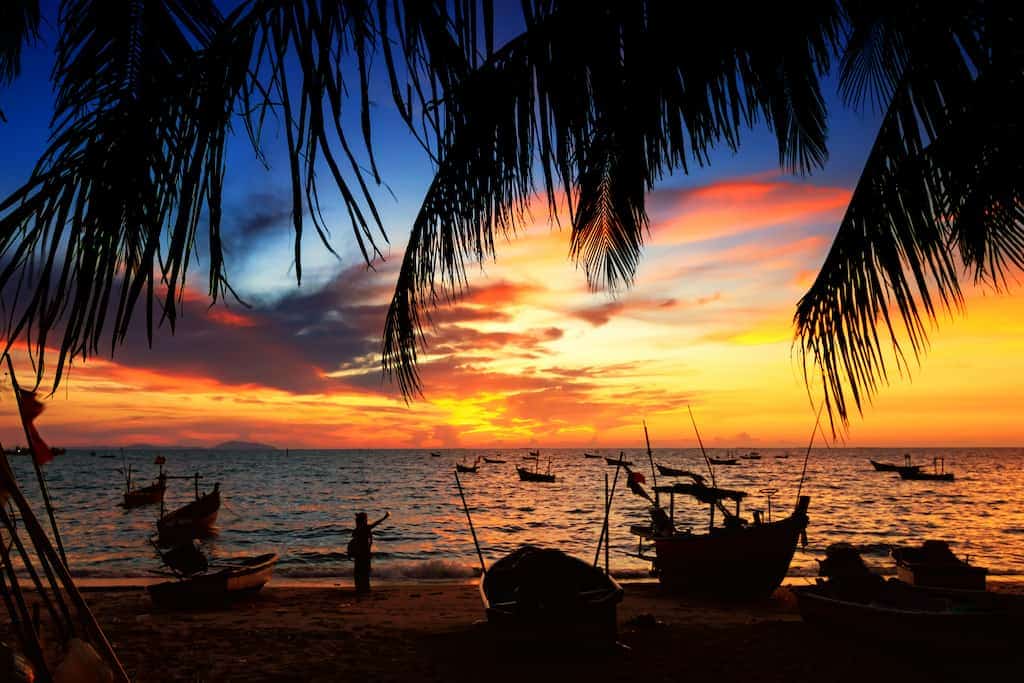 Tips to Capture Beautiful Sunsets
Preserve those picture-perfect moments and do justice to the mesmerizing sunset views of Pattaya with these photography tips:
Golden Hour Timing
The best time to capture sunsets isn't just as the sun touches the horizon, but about 30 minutes before and after. This period is called the golden hour for a reason, as your surroundings are transformed by the setting sun's soft, warm light.
Stay Stable
Low light conditions may make it challenging to take good photos. Use a tripod or place your camera or smartphone on a stable and flat surface to prevent blurring and enable clear, focused images.
Rule of Thirds
A basic photography rule is to divide your frame into nine equal sections with two vertical and three horizontal lines. Position the sun or your main focal point at the intersection of these lines for a balanced composition. Use foreground elements in your composition, such as silhouettes or objects like trees and sandcastles, to add depth and interest.
Sunset Bliss at MASON
Check out MASON's special offers, complimentary breakfast, and exclusive activities to make your stay a truly unforgettable experience. Plus, book a stay 60 days in advance to take advantage of our Early Bird promotion. It's time to plan your holiday at our prime sunset spot in Pattaya today.