Many consider Bangkok to be one of the top destinations in Asia to visit. But, on the flip side, Bangkokians themselves often can't wait to escape the city to a beach villa with a pool along the beaches of Chon Buri whenever the opportunity arises. This is entirely understandable because sometimes you just need to catch a breather and escape from the heavy traffic and pollution of the city. 
Fortunately, there are a number of beaches within a few hours' drive of Bangkok. Some of the most popular options are Hua Hin, Cha-Am, and Pattaya, each offering its own unique blend of natural beauty, cultural attractions, and numerous entertainment options.
Popular Pattaya
Among the options available, Pattaya is a popular choice mostly because of its proximity to the city. In addition, Sukhumvit Road forms a direct and convenient artery connecting Bangkok to the center of Pattaya, allowing you to unwind with a refreshing cocktail at this idyllic beachfront haven in less than two hours after departing Bangkok.
Pattaya boasts a thriving nightlife scene, with a slew of bars, clubs, and restaurants catering to all tastes and budgets. If you just want to spend your time lazing on the beach, several stunning beaches provide ample opportunities to relax or enjoy some water sports.
Besides the thumping nightlife and beach activities, Pattaya offers several other attractions and activities for you to enjoy. Two of the most popular activities in Pattaya are Jetski, golfing and go-karting.
Go on a Thrilling Ride
For those seeking a more thrilling experience than a night out on Walking Street in Pattaya, the go-kart track at EasyKart Pattaya is a great alternative. This well-maintained track offers an exciting experience for all skill levels, with various karts to choose from. There are family-friendly tandem karts and high-speed race karts for more seasoned drivers. The facility has two track layouts: a 350m beginner track and an 800m competition-level track for more advanced drivers. Both tracks offer an abundance of fun and excitement in a safe and controlled environment. Racing around a track on the weekend with your friends is a great way of releasing all that stress and tension built up over the long work week.
Tee Off in Paradise
Golf enthusiasts will be delighted to discover that Pattaya has numerous world-class golf courses, each offering a unique golfing experience and stunning surroundings. There are over 20 golf courses near Pattaya, which will give you plenty of options to test your swing.
The Laem Chabang International Country Club is a prestigious option. Designed by legendary golfer Jack Nicklaus, this 27-hole course features three distinct nine-hole sections: the Mountain, the Lake, and the Valley. Each section offers breathtaking views and challenging terrain that make for a memorable and enjoyable round of golf.
Another solid option is the Siam Country Club. This impressive club has three different courses: the Old Course, the Plantation Course, and the Waterside Course. All of them are meticulously maintained and feature a variety of holes that will put your skills to the test.
MASON: A Dream Beach Destination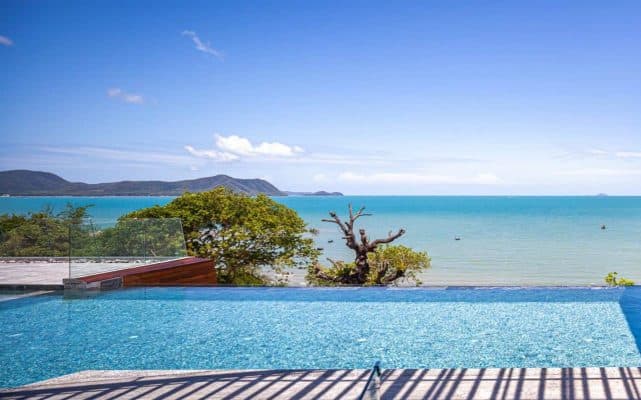 Situated on the quieter side of Pattaya along the Na Jomtien coastline, MASON is isolated from the rowdy nightlife scene of Central Pattaya. Our upscale beachfront villas offer a serene and luxurious escape from Bangkok city life and bring you closer to the beaches of Chon Buri. We have 35 exclusive villas, each designed to blend harmoniously with the stunning beauty of the natural environment.
A Range of Villas to Choose From
MASON provides you with a range of options to suit every traveler's needs and preferences. Pick from a cozy and intimate one-bedroom Beachfront Grand Pool Villa, perfect for couples or solo travelers, or the spacious two-bedroom Double Grand Pool Villa, ideal for families or groups of friends.
Key Features
Beachfront Grand Pool Villa For Up To Two People
168 sq.m. with unobstructed panoramic ocean views

Air-conditioning

3.5 x 7 meter (24.5 sq.m.) saltwater swimming pool with jacuzzi

Oversized bathtub with bath crystals

Hand-held and rain shower

Private terrace with two sun loungers

49" Smart TV

Safety box

Personal refrigerator

Full amenities

Hair dryer

IDD telephone
Double Grand Pool Villa For Up To Four People
180 sq.m. with a sea view

Air-conditioning

3 x 8 meter (24 sq.m.) saltwater swimming pool with jacuzzi

Two oversized bathtubs with bath crystals

Hand-held and rain showers

Private terrace with 2 sun loungers

3 Smart TVs (43"&49")

Safety boxes

Personal refrigerators

Full amenities

Hair dryers

IDD telephone
We also have our Beachside Seaview Pool Villa, Duplex Grand Pool Villa, and Garden Pool Villa. Please click here for more details.
Onsite Facilities
Our varied onsite facilities are designed to elevate your stay with us. Take in the stunning panoramic views of the ocean right from your villa's private pool, or visit the large Sky Pool located within the Club House. MASON's full-service spa lets you indulge in a rejuvenating treatment during your stay with us. And for guests who don't want to miss out on their daily fitness routine, our well-equipped gym awaits.
Dining Options
MASON offers a range of dining options within a short walk from your villa. Our signature restaurant, ZILA STREET BISTRO & BAR, combines international and local Thai cuisine, using only the freshest ingredients sourced from local markets. For a casual dining experience, head to the BEACHSIDE BAR, where you can savor light bites, refreshing beverages, and expertly crafted cocktails.
MASON offers you the perfect blend of relaxation, indulgence, and adventure. Don't miss the opportunity to experience the ultimate beachside retreat near Bangkok. Explore Thailand, One day in Pattaya. Book a stay with us and embark on a truly unforgettable seaside adventure at our luxurious beachfront villas today!