Ah, Pattaya! A city of enchantment, glistening waters, and…a culinary conundrum? Indeed, with the multitude of dining options parading their culinary masterpieces, choosing where to dine can quickly become overwhelming. However, worry not, dear gourmand. We present to you our top five must-visit local Thai and international food restaurants in Pattaya.
Rimpa Lapin
Tucked on a serene cliff-side, Rimpa Lapin offers panoramic views of Pattaya's bay and vast ocean. Apart from the visual treat, your taste buds are in for a delight. Their menu showcases Thai and European flavors alongside daily-delivered seafood. Star dishes include the stir-fried lobster with salted egg, grilled shrimp with cheese, and a tantalizing Rimpa chicken sautéed in buttery cream sauce.
The Glass House
This local and tourist favorite restaurant in Pattaya is not just a name; it's an experience. Boasting a unique all-glass pastry shop, The Glass House also has a breezy outdoor terrace for main dining and beach tables for a toes-in-the-sand experience. With over 177 dishes, it champions both Western and Thai cuisine. Sample their garlicky New Zealand Mussels in a pesto sauce, or get adventurous with a zesty Salmon Larb.
Pupen Seafood
The beauty of Jomtien Beach matches the culinary allure of Pupen Seafood in Pattaya, a gem for those in search of authentic Thai food at its best. Operating since 1984, they boast a huge open seating plan perfect for large groups. Diners can admire the slow beach life just across the street as they enjoy their exquisite seafood dishes. Must-tries? Stir-fried squid with salted egg yolk, garlic stir-fried flathead lobster and steamed pooma (flower crab).
Lungsawai Seafood
With 30 years under its belt, this beachside legend at Jomtien Beach stands out among the many local restaurants in Pattaya. With a whopping 180 tables, their extensive seafood menu includes delicacies like sun-dried squid, red curry sea crab with coconut shoots, and grilled shrimp drizzled in tangy tamarind sauce.
Zila Street Bistro & Bar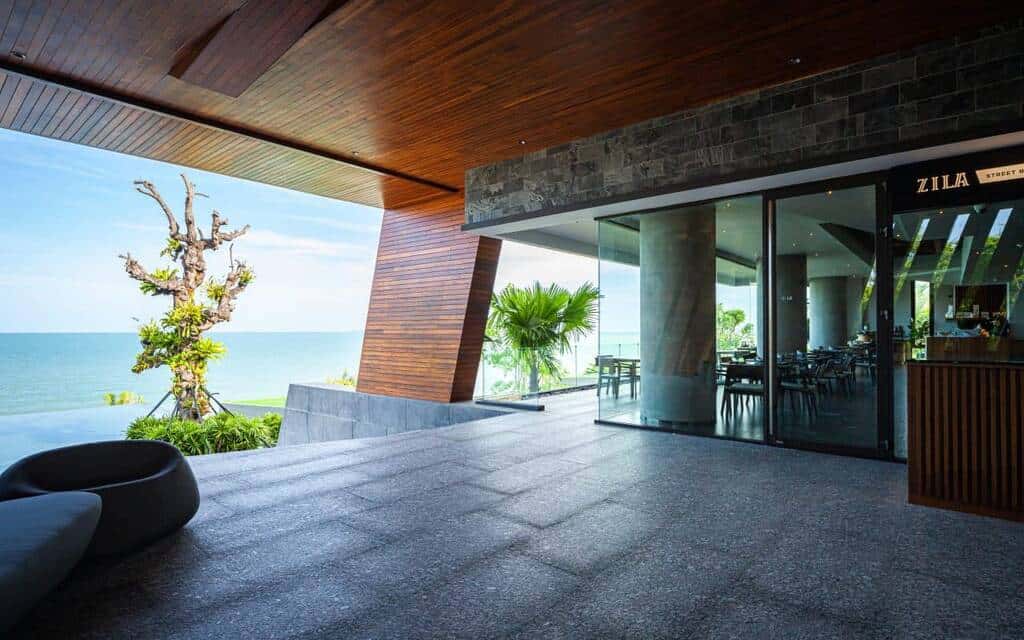 Last but not least, Zila Street Bistro & Bar emerges as an exquisite choice among the local restaurants in Pattaya, where uniqueness culminates in the exquisite. Offering breathtaking views of the Gulf of Thailand, this luxury restaurant is nestled in the scenic Na Jomtien, presenting some of the finest Thai and fusion food Pattaya has to offer.
As gentle waves serenade the senses, our luxury restaurant's chic and sophisticated design harmoniously complements the surrounding natural beauty of Na Jomtien Beach, evoking a sense of luxury intertwined with comfort. A standout feature of Zila Street Bistro & Bar is our exceptional menu, which not only celebrates the essence of global flavors but also enhances them with a distinctly local touch.
The mastermind behind these culinary delights is our prodigiously talented Executive Chef Chayasak Namwong. Drawing from a rich tapestry of culinary experiences, Chef Namwong masterfully combines traditional Thai flavors with contemporary Asian techniques. From the succulent Chon Buri Jaeng Lon, which promises a riot of flavors with each bite, to the Pla Goong Lai Seua, which offers a delightful balance of smokiness and aromatics with just the right hint of spice, every dish tells a story. The Pad Thai with Tiger Prawn is a nod to Thailand's rich culinary heritage, while the Thai Sweet Sticky Rice with Mango is a sweet symphony that concludes any meal perfectly.
Besides serving local culinary wonders, our bistro-style restaurant and bar in Pattaya is also an excellent choice for hosting exclusive celebrations. Whether you are looking to host a private dinner party beneath the stars or a celebratory soirée, our bistro provides an unmatched luxurious setting and world-class service that's bound to wow your guests. And for guests at MASON, the enchantment extends beyond dinner. Imagine indulging in an afternoon tea, savoring the finest brews and pastries, all while soaking in the mesmerizing ocean view, creating a tranquil experience that promises both relaxation and rejuvenation.
Exploring Pattaya On A Platter
The next time you find yourself wandering the streets of Pattaya in search of a gastronomic escape, let our curated list guide you. And for an unmatched experience, Zila Street Bistro & Bar in MASON beckons. With mesmerizing views and scrumptious dishes, here you will satiate more than just your hunger.
So, when in Pattaya, elevate your dining game and join us for an unforgettable feast. Until then, bon appétit!