Are you dreaming of visiting places near Bangkok for a weekend trip? Just a two-hour drive from Bangkok, Pattaya is an ideal destination for a quick getaway. It offers many attractions and things to do for a weekend, from the beach to nightlife and Thai culture.
Here are our top reasons to make those short trips from Bangkok to Pattaya:
Savor the Nightlife
Pattaya's nightlife is more than neon lights and loud music. Discover places with an elegant atmosphere for families and couples to enjoy delicious drinks and scrumptious food. If you are on the hunt for a dining experience that combines sophistication, first-class service, and contemporary Asian cuisine, head to Zila Street Bistro & Bar in a 5-star beach resort in Na Jomtien, Chonburi.
For an extraordinary dining experience and spectacular sea views, visit KROK-A-CAFE Espresso Bar at MASON. It boasts an extensive menu of signature drinks and cocktails and a rooftop bar with a 180-degree view of Na Jomtien Beach and the tranquil Andaman Sea. Meanwhile, if you want an authentic tropical island experience, escape to MASON's Beachside Bar, set in a perfect beachfront spot for private dinners and romantic rendezvous by the beach.
Witness Unrivaled Entertainment
Have a splendid evening filled with spectacular costumes and live musical and dance performances at the Alcazar Cabaret Show or Tiffany Cabaret Show. If you are looking for live-action excitement, watch a Muay Thai match up close and feel the adrenaline rush as Thai boxers go head to head at MAX Muay Thai Stadium.
Immerse in Traditional Culture
Get a glimpse into the authentic Thai way of life with a visit to Pattaya's top cultural attractions. The Sanctuary of Truth is a temple and museum intricately carved from wood, highlighting traditional Thai architectural details. Shop for local delicacies and handicrafts at Pattaya Floating Market, one of Thailand's largest, covering an area of 100,000 square meters. Or, learn about traditional fishing and seafood harvesting at the Bangsaray fishing village.
Have A Taste of Nature and Adventure
Pattaya has plenty to offer the more adventurous travelers. Immerse yourself in the garden of Eden with more than 670 plant species at the 500-acre Nong Nooch Tropical Botanical Garden, or visit the 70-meter-high golden Buddha engraving at Khao Chi Chan.
Thrill-seekers must not miss the exhilarating shark dive and fascinating sea creatures at the Underwater World Pattaya Aquarium, the movie-themed rides at the Columbia Pictures Aquaverse, and the awesome, gravity-defying water slides at Ramayana Water Park.
Tour the Country Clubs
Golf enthusiasts are in for enjoyable rounds of their favorite sport at any of Pattaya's exclusive country clubs. Pattaya is home to some of the region's finest golf courses, including Phoenix Gold Golf & Country Club, Siam Country Club, and Pattaya Country Club, which offer beautiful vistas and meticulously kept courses for golfers of all levels.
Embrace the Beach Vibes
If sun, sand, and sea are what you are after, Pattaya has it all. It offers plenty of places near Bangkok to go on your weekend trip. Just a boat ride away from Na Jomtien Beach are the islands of Koh Phai, Koh Kham, and Koh Lan, mesmerizing visitors with their unspoilt beauty. Island-hopping is a popular activity that allows you to discover more beaches perfect for swimming and snorkeling.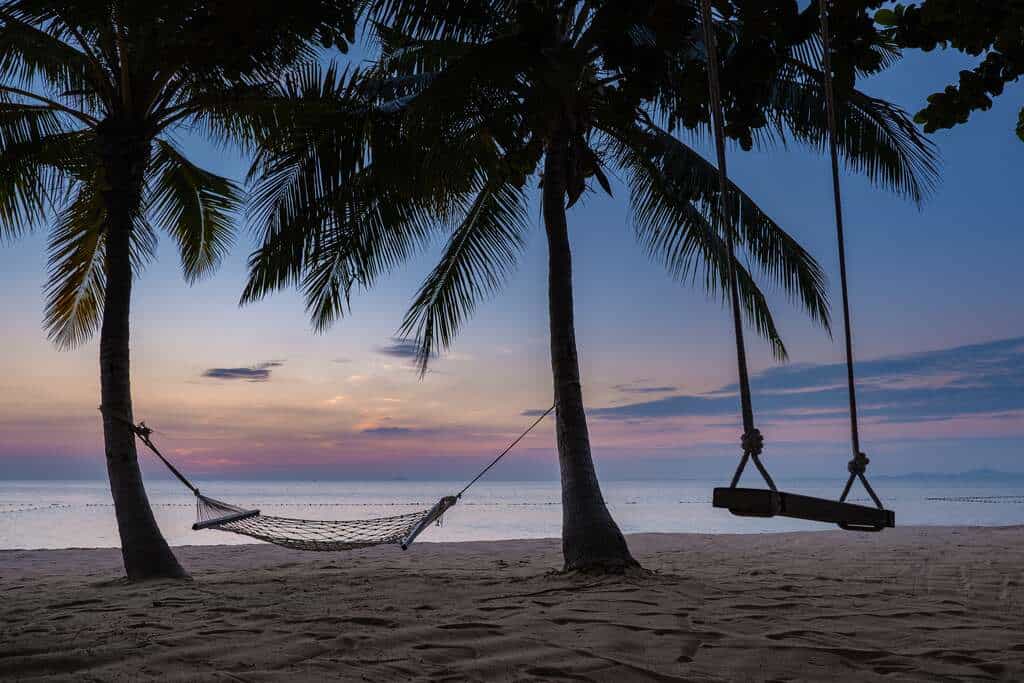 MASON at Na Jomtien Beach itself is the spot to go to for water sports, such as kayaking and paddle boarding. If you are up for more excitement, some places also offer windsurfing, jet skiing, or parasailing.
Experience True Relaxation
Na Jomtien is an ideal location near Bangkok to enjoy some well-deserved R&R. MASON's beachfront location and 5-star accommodation offer a luxurious experience for a true escape to rest, rejuvenate, and create unforgettable memories.
Our ultra-luxurious modern pool villas take inspiration from the stone mason community of Angsila, renowned for its traditional art of rock carving. Each villa is a testament to refined living with cosmopolitan, minimalist interiors, premium furnishings, and first-class amenities. Floor-to-ceiling windows bring the beauty of the surrounding nature indoors to bring calm and serenity.
A session at MASON's award-winning spa is sure to be the highlight of your weekend. We offer unrivaled service and exclusive signature treatments to balance the body and mind.
Take a short trip from Bangkok to Pattaya and find the perfect spot to recharge and reenergize in MASON. Our exceptional resort offers a serene atmosphere and plenty of activities to enjoy our coastal paradise fully. Plan your weekend trip 60 days in advance and enjoy special Early Bird rates and complimentary upgrades!