Sun, sea, and romance – the perfect trio. Any time is an excellent time to celebrate love and togetherness, but why not make it extra memorable? Nestled along the pristine beaches of Na Jomtien, MASON Pattaya offers the perfect couple destination setting for a romantic beach trip. As you step into this luxurious haven, you are greeted with stunning views of the turquoise waters of the Gulf of Thailand and the carefully designed, lush greenery surrounding our resort.
Luxury Pool Villas With Ocean Views
Our luxurious ultra-modern pool villas, only a stone's throw from the beach in Na Jomtien, are a vision of beauty and romance. Perched high atop a hill, enjoy romantic sunsets and panoramic ocean views daily. Our stylish and contemporary design perfectly complements the natural beauty of the surrounding landscape. These one-bedroom pool villas have beachfront or seaside options and are ideal for couples seeking a private, intimate retreat. Plus, the front-row villas provide a first-class view of the captivating ocean, creating the perfect ambiance for a romantic evening beneath the stars.
Inside the villa, luxuriate in the utmost privacy and comfort with a private saltwater pool while you listen to your favorite beats on your complimentary Marshall Bluetooth speaker. Relax in the Jacuzzi or spend quality time reading a book on our spacious sun deck. Our elegant bedroom boasts plush king-size beds and a spacious en-suite bathroom with an oversized bathtub and walk-in closet. Our resort's private beach entrance is a mere few steps away for you to take advantage of the sand and sea and then return to your villa to relax and unwind.
Additionally, you have your very own concierge, a creator, who will take care of all your needs. Your creator can help arrange that private, romantic dinner you have planned for your significant other or a full day out exploring the food scene together in Pattaya. A perfect blend of romance, luxury, and convenience – you will never want to leave.
Recreation and Rejuvenation
There's more on offer at MASON than our stunning accommodations. Here are our top five activities that couples can enjoy together:
Private Romantic Dinner on the Beach
Let us arrange an unforgettable dinner soiree for you under the stars on our private beach. Imagine a candlelit table with waves crashing in the background as you and your loved one enjoy a delicious meal. We offer various menus, including Thai, western, and fresh seafood options – all prepared using the freshest, locally sourced ingredients. This is the perfect opportunity to share an unforgettable evening with your significant other.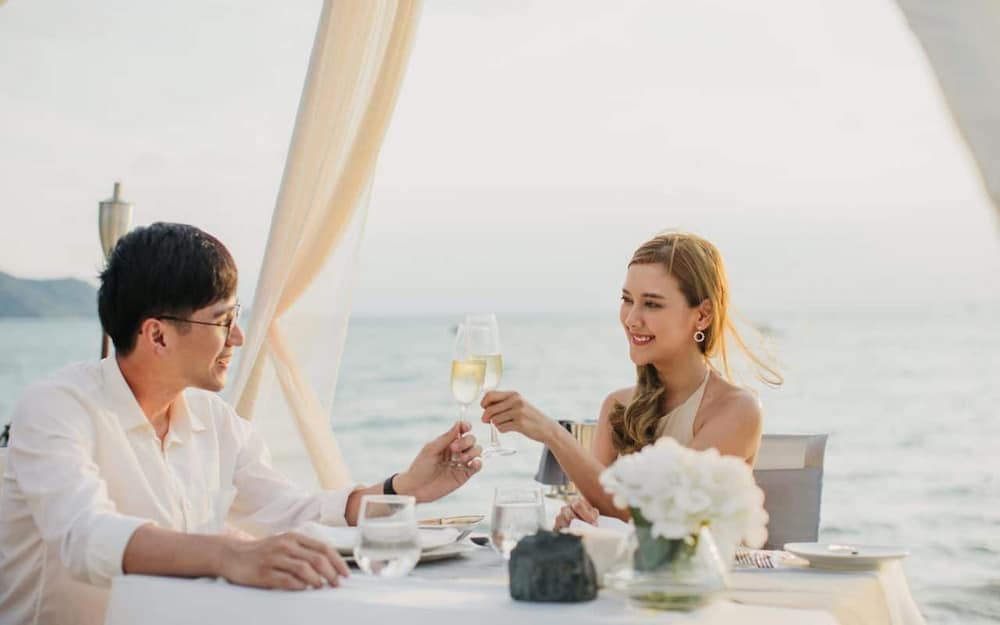 Couple's Massage at MASON Spa
A must-do for the ultimate relaxation and rejuvenation experience. Our resort's spa offers various treatments that blend western and eastern styles to create excellent massages. Indulge in a luxurious pamper session with your partner as you unwind and de-stress from the demands of everyday life. We recommend the MASON ZILA Massage, which uses stones with unique qualities only found in the Angsila community in Pattaya.
Private Island Excursion
Zoom across the beautiful waters of the Gulf of Thailand with your loved one on a private excursion, all arranged by us. Snorkel together in the crystal clear waters of Samae San Island or go on a glass-bottom boat tour at Koh Kham Island. On special request, we can also arrange a picnic lunch for you on the beach, complete with champagne and stunning ocean views.
Couple's Kayaking
Experience the serenity of the ocean as you and your partner kayak through the calm waters surrounding MASON. We offer guided tours for couples to paddle out and explore the stunning coastline. This is an excellent opportunity to connect with your loved one, enjoy nature's beauty, and get some exercise in the process!
Waterpark
Looking for something to do together outside the resort? We can arrange trips for you to Ramayana Water Park – one of Thailand's biggest waterparks offering a whopping 21 awesome slides. Get competitive on the slides or hold hands and flow through the lazy river – the fun is endless. The waterpark is the perfect place to spend the day making a splash.
With so many exciting activities and MASON experiences, we promise couples a picture-perfect private beach vacation. So why not treat your loved one to a romantic beach trip to MASON Pattaya and embark on a journey of love, relaxation, and luxury? Contact our team today to find out more for your holiday destination.