The vibrant coastal town of Pattaya is just 100 kilometers away from Bangkok making it an ideal quick getaway for city dwellers hoping to escape urban life. This seaside paradise is known for its beautiful sunsets and colorful nightlife and also serves as a gateway to some of the most stunning islands in Thailand. One of the best ways to experience Pattaya's coastal beauty is to go on an island hopping adventure to soak up the sun and discover the region's rich marine life. You can go on a thrilling private speed boat tour when you book a stay at MASON's beachfront pool villa resort in Na Jomtien as your holiday destination.
Island Hopping in Pattaya
There are several islands within easy reach of our property in Pattaya, each offering a unique experience. We have compiled some of the best ones for you to add to your island-hopping trip around Chon Buri: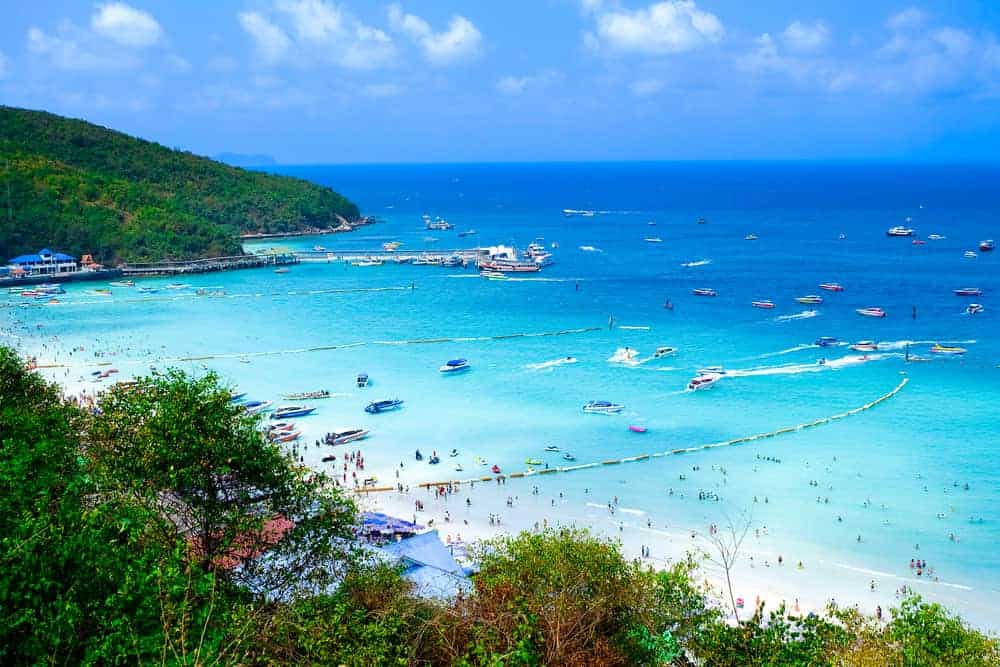 Koh Larn
One of the most popular islands around Pattaya, Koh Larn, also known as Coral Island, is also the closest. The island is just 15 minutes away by speedboat, making it an ideal half-day trip if you don't have much time to spare. But if you do, there's more than enough to keep you occupied for an entire day on the island.
The sandy white beaches and clear turquoise waters are perfect for an afternoon of sunbathing and snorkeling. If you're looking for an adrenaline-rush during your visit, visit one of the jet ski rental centers on the island. You could also choose to rent a scooter, explore the island's many elevated viewpoints, and catch an incredible ocean view.
Koh Sak
Tucked away to the north of Koh Larn is this unassuming little horseshoe-shaped island that hides abundant marine life beneath its crystal clear waters. Its two beaches are perfect for snorkeling and diving. Despite its proximity to the larger island, Koh Sak sees little spillover of tourists and retains a quiet and peaceful atmosphere. And, if you fancy a sunset barbecue, there is equipment available to rent on the island.
Koh Khrok
If you're looking for a slice of paradise, Koh Khrok is the island to visit. A short boat ride from Koh Larn, this uninhabited island has stunning coral reefs and diverse marine life, making it an incredible place for snorkeling and scuba diving. In addition, due to its remote location, this island is the perfect place for those seeking tranquility and isolation from Pattaya's weekend crowd. If you plan on spending a few hours here, remember to bring your own food and drinks, as the island has no facilities to offer visitors.
Koh Phai
Commonly known as Bamboo Island, Koh Phai is 21 kilometers away from Pattaya and totally uninhabited. The island is under the strict control of the Royal Thai Navy, which means visitors can only stay during daytime hours. The lack of shops, restaurants, or accommodation makes Koh Phai the perfect place for adventurous types who want to see an unspoiled island in its full natural glory. The island's pristine coral reefs and vibrant marine life is not to be missed. You won't regret adding Koh Phai to your list of snorkeling and diving spots on your island hopping trip around Chon Buri.
Koh Samet
Located about 85 kilometers from Pattaya, this larger island has a well-established tourism economy, making it a relatively convenient place to visit. You will find it easier to get around with many English-speaking Thais happy to give you directions and help when needed. This island is known for its crystal-clear waters and lush green forests. There's a whole range of activities for you to choose from when you visit, including hiking, snorkeling, scuba diving, or simply renting a scooter to explore the island.
Koh Si Chang
A 20-minute speedboat ride from the coast of Pattaya, this charming island is steeped in history and home to several historical sites, including the summer palace of King Rama V. If you want a more cultural experience during your island hopping adventure, this is the perfect destination.
Make your dream getaway a reality today and go on an unforgettable island-hopping adventure around Pattaya! Book a stay with us at MASON and experience unparalleled service and luxury at our beachfront pool villas.